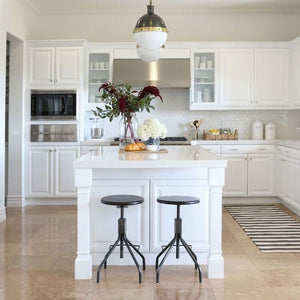 Mesmerizing White Kitchen Cabinet Ideas
Some call them white kitchen cupboards some call them white kitchen cabinets. No matter which way you prefer to name it, there is one thing that never changes and that's the timeless beauty of the white color. If you are looking for getting new white kitchen cabinets for your to-be-decorated home kitchen then you are in the right place!
Alternatively, there might be suggestions for you to paint your already existing kitchen cabinets white. We suggest getting new ones to bring fresh new air to your kitchen. The main reason for that is while having new ideas for painting white kitchen cabinets is totally viable, it is a rather messy process that consumes a lot of valuable time especially if it's your first time. And as we all know; time is money more than ever in every changing dynamic of the 21st century. That's why getting new cabinets for kitchen decoration is absolutely a viable approach for renovating your beautiful home.
If you are still reading it means you are on the right path to getting your home a marvelous set of white kitchen cabinets. Let's check below to see what we got for you in our list of mesmerizing white kitchen cabinets!
Different Styles of White Kitchen Cabinets
Bring Luxury to Your Home Kitchen
While plain white kitchen cabinets are good transitional white kitchen cabinets are even better. Don't get us wrong, there's nothing wrong with plain white. It's just that a little bit of fancy detailing can bring loads of value for your home and transitional style white kitchen cabinets serve better in regards to this purpose. When getting new kitchen cabinets, if you plan on having a unique decoration a transitional style will do wonders for your living quarter decoration.
Contemporary Styles Are Popular for Kitchen Decoration
Here's one of our favorites; modern white kitchen cabinets. It is of course no coincidence that white kitchen designs naturally favor a contemporary style with us being in the age of technological marvels. Thanks to this, white has made many introductions in the form of modern kitchen cabinets. Many who favor white as a color for their kitchen will tell you to go safe and go with the classical white or super white variations. However, what many people forget to mention in home decoration is the fact that a little bold view can go a long run. And there is nothing making a bolder statement than the distinct combination of black and white kitchen cabinets.
You Can Never Go Wrong with the Traditional Fashion
If you are one of the staunch defenders of white color for kitchens, then you probably also dig the ethos of "white kitchen with white cabinets". Truly a fascinating sight when used with the right details, fully white kitchens go best with traditional white kitchen cabinets. This setting is especially reminiscent of our family homes where the norm was basically white yet cozy, heart-warming, and elegant. The same traits can be easily attained by today's delightful styles and a traditional setting can bring the same wonderful atmosphere to your home.
Tones of White Can Create Wonders
Next on our list for white cabinetry ideas are off white kitchen cabinets. Many kitchens with white cabinets usually choose a super white or plain white palette with ornate details, however, many fail to recognize the fascinating nuances brought forward by different hues of white. Off white is a great example of this as it can bring depth and sophisticated feeling to your kitchen with its mere presence. In addition to off white kitchen cabinets, we recommend that you check off white backsplashes as well. This way you can combine different hues of whites to create interesting settings for your decoration.
Bring An Ancient Muse to Your Homes
White cabinets for kitchens can take many forms but none of them harness the hypnotizing effect brought forth by antique white kitchen cabinets. Mind you that this white tone is definitely not for homes that are seeking simple kitchen cabinets as antique white looks very luxurious and enticing. Another personal favorite of ours, you would be doing a favor to yourself by checking out the deep beauty of antique white kitchen cabinets.
This is the end of our blog post for designing "Mesmerizing White Kitchen Cabinet Ideas"! Hope you enjoyed our list of kitchen ideas with white cabinets. If you are interested in following out popular trends for kitchen designs and our new kitchen products for 2022, make sure to check our blog posts below!
To learn more about kitchen design tips, you can read some of our blog posts such as; "How to Organize Kitchen Cabinets? Limited Space, Unlimited Ideas!", "How to Choose the Best Bathroom Hardware?", and "10 Most Popular Kitchen Cabinet Knobs & Pulls to Enhance the Beauty Within".
We're sure you'll find more attractive ideas for styling purposes and select out the most suitable products for renovating your kitchen with our future blog posts as well. Until next time, be safe and in good vibes!
---