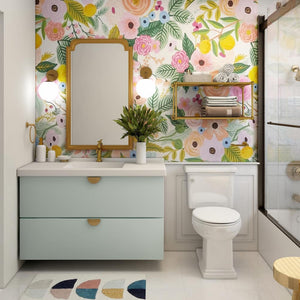 How to Choose the Best Bathroom Hardware?
Although often ignored by the majority, a bathroom's quality and ambience is as important as any other room of the house. For most of the people, the time spent in bathroom likely contains the most personal and private moments of their lives. A bathroom itself is a private place and a storage for people's most personal items. It is not easy to share such a confidential space with others; however, broadly speaking, as we welcome other people to our precious homes, we end up giving the key to our bathrooms as well. The overall and hopefully organized look, as well as the cleanliness of it says a lot about its owner's personality, daily life and maybe even some habits. It has a big role in the house's first impression, and thus, it is only natural that we want this special space to be nearly perfect.
Compared to other rooms of a house, it may seem as if there is nothing much to do for a bathroom in terms of decoration. Most of the time, the space is relatively smaller than the other rooms, therefore it is hard to find a space for any decorative object. However, if you are creative and knowledgeable enough, then you may actually have a chance at making miracles happen. And that is exactly why we are here to help you on this matter!
With the Right Selection of Bathroom Hardware or Bathroom Accessories, You Can Do Wonders!
The general structure of your bathroom may not provide the most convenient space for a perfect design. However, once you explore all those bathroom hardware ideas that will perfectly fit your imagination and make your selection among the best bathroom accessory options, you will see the fact that the size of the space is not everything when it comes to having a perfectly designed and decorated bathroom. Although more space may eventually mean more options of extra decoration, you can still create a wonderful place out of a comparatively limited space.
There are a few bare necessities we see in almost every bathroom. Especially in the case of limited space, we highly recommend you choose those necessities carefully. As you won't be able to change or enhance the ambience you are looking for by going for extra furnishing, your fundamental setting will be decided depending on those necessities and their outlook.
Hardware selection is one of the most important steps in the process of creating a dream bathroom. Therefore, you should decide on the overall look and atmosphere you wish to go for beforehand. We can list out hundreds of different styles in terms of bathroom decoration, and regardless of the size of your bathroom, you can easily choose to have any of them. 
Never let the space be your limit, even a small place can turn into a breathtaking view. That is why, making the right decision plays a big and vital role on the way. Before making your decision, we suggest doing some research regarding the desired style, as well as the hardware and accessory sets that will reflect it. Is it luxury and modernity, or is it more traditional and retro? You may also be considering a transitional style that reflects both the past and the present. Take a deeper look at the trends, try creating a new style that perfectly represents you. Play with the options and shape new alternatives. With a wide range of bathroom hardware ideas and accessories, there is no style or decoration you can't achieve to have!
"Simplicity is the ultimate sophistication."
Do you wish to have one that looks like one of those famous hotel room bathrooms? Then you may consider a rather luxury bathroom hardware and luxury bathroom accessories that will enhance the elegant vibe you want. With the right choice of elegant bathroom accessories sets, it will be pretty easy to create that minimalistic yet deluxe ambience not only you, but almost everybody wishes to have. Even with limited space! 
For such a look, Hardware Resources' Porcelain Vanity Sinks may just be right choice! With its parchment or white finish and oval or rectangular shape options which enhance simplicity yet elegancy at the same time, even a small bathroom may turn into a sophisticated space.
"The modernity of yesterday is the tradition of today, and the modernity of today will be tradition tomorrow."
Some things never get old, and as we all have experienced at some point, things that are once considered to be old fashioned are seen as new fashioned again! So, what do we do? We take part in the trends as well! If you wish to go for a retro look, you may want to consider some unique bathroom accessories sets, as well as the best bathroom hardware options that are perfectly in sync with them.
For this design, we recommend you take a look at Elements by Hardware Resources' Newbury collection. Robe hooks, towel bars or even more old-fashioned towel wings and shower rods with brushed oil rubbed bronze finish will take you to a memory lane and eventually blow your mind!
"Real comfort, visual and physical is vital to every room."
Sticking to basics and choosing function over appearance is considered to be the best option for most people, and we dare not deny that! That is why, going for simple yet modern bathroom hardware sets and choosing from modern bathroom accessories can be the best decision for you, if that is exactly what you wish to have.
In that case, we would like to present you Elements by Hardware Resources' Bridgeport and Fairview collections. With their radiant polished chrome finish, these collections' toilet paper holders or robe hooks would be the best option to enhance the simple modernity within your bathroom. Elements by Hardware Resources' grab bar options made out of stainless steel will also fit the functionality you are looking for!
Going for extra furnishing in your bathroom may be one of the most efficient ways to create the desired atmosphere in the place. However, without the right selection of bathroom hardware sets, as well as the best bathroom accessory alternatives, the furnishing alone still won't be enough for the ultimate satisfactory results you are looking forward to seeing. Among numerous grab bar, toilet paper holder, robe hook, towel ring, towel bar and shower rod options and their various finishes such as polished chrome, satin nickel, brushed oil rubbed bronze, stainless steel, you can easily choose the one that will complement the overall look of your bathroom.
Decoration is a fun process, and you may very well start from the very beginning!
To learn more about kitchen design tips, you can read some of our blog posts such as; " What Are Different Types of Solid Wood Kitchen Cabinets?", "How to Organize Kitchen Cabinets? Limited Space, Unlimited Ideas!", and " 10 Most Popular Kitchen Cabinet Knobs & Pulls to Enhance the Beauty Within".
---