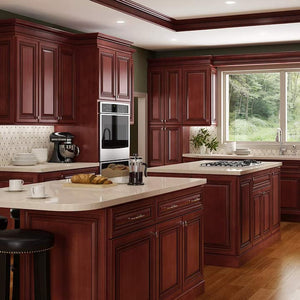 What Are Different Types of Solid Wood Kitchen Cabinets?
When you are renewing your kitchen, it is important to carefully select the immovable objects such as your kitchen cabinets according to your taste and style, as it will most probably take a while before you replace them. Thus, selecting your kitchen cabinet style and material is vital in terms of determining your overall decoration mood.
Due to their generally hefty but worthy price tag, you might be considering the advantages and disadvantages of getting yourself brand new solid wood kitchen cabinets. To ease the process overall, we prepared you a shortlist of the pros and cons of solid wooden cabinets below:
Pros of Solid Wood Cabinets
High durability & strength: Solid wood is such as strong material that it is used worldwide for constructing numerous buildings and works of art that still last to this day. Choosing your kitchen cabinets to be made from solid wood will ensure them a very long lifetime,

Property value: Due to their long lifetime and high quality, solid wood cabinets will surely increase the value of your property. Upfront costs can be expensive but the long-term benefits outweigh them,

Aesthetic value: The beautiful natural patterns of solid wood cabinets will surely bring unparalleled beauty and elegance to your home,

Customization options: No matter what type of wood you select, each and every one of them can be customized according to your needs. This customization begins from the cabinets' shapes all the way to its finish.
Cons of Solid Wood Cabinets
Moisture can be problematic in extra humid environments: In their unfinished state, solid wood cabinets are not totally waterproof. However, this can be prevented by adding a waterproof finish to your cabinets,

A tendency for warp and crack if not taken care of: Due to its organic structure, solid wood can be prone to expanding. This can cause warping and sometimes even cracking. The best way to prevent this is by attaining your solid wood cabinets from an experienced seller,

Bugs can infest your cabinets if regular maintenance is not provided: Pest attacks are common with wooden material, to prevent this you need to regularly maintain your solid wood cabinets.
Now that you have a brief idea of the pros and cons of solid wood cabinets it's time to delve into their different types!
Types of Woods
There are numerous wood species that you can use for your kitchen cabinets. While many of them will bring their own aesthetic and durability-based value to the table, we always suggest getting any type of solid wood kitchen cabinets from highly renowned suppliers.
With its full custom and semi-custom options, very high-quality solid wood kitchen cabinets, and excellent customer reviews we suggest you pick Omega Cabinets when choosing your solid wood kitchen cabinets.
To give you a general understanding of different wood options, we listed some of the most popular and high-quality hardwood selections below. Each and every one of them will bring an air of warmth and a luxurious feel to your kitchens.
Alder
Alder is a member of the Birch family. It is unique in the way that it has beautiful red undertones which intensify upon aging. It is also quite flexible and, thus, can be customized pretty in detail. For alder, we suggest you check the Adagio style. Its elegant simplicity will match Alder's beautiful red undertones.
Cherry
Cherry is a marvellously beautiful wood with a reddish or white color. It is very easy to work with cherry and ages really well. It is considered as one of the more luxurious wood options. For cherry, we suggest you check the Delray style. Its details will perfectly accompany cherry's high-quality vibe.
Maple
Maple is a pretty and cozy vibe giving wood options. It is versatile wood. Its smooth texture with graining options allows it to be suitable both for staining and painting. For maple, we suggest you check the Prescott style. As maple is highly versatile, detailing looks beautiful and Prescott does just that.
Oak
Oak is one of the most popularly known hardwood. It has red and white varieties and both of them are excellent choices for furniture. The white variety has one upper side, it is more resistant to moisture in comparison to the red version. For oak, we suggest you check the Monterey style. Minimalistic and sleek, Monterey will be a fine suit for depicting oak's unmatched resilience and heritage.
Pecan
Pecan is a very smooth textured and extremely strong hardwood. It is a close-grained wood with a beautifully complex flowing grain pattern. Pecan's rugged appearance will surely bring class to your kitchens. For pecan, we suggest you check the Barrington style. Similar to Bancroft, albeit more symmetrical in appearance, Barrington will highlight pecan's complex flowing grain pattern in an astounding manner.
Walnut
Walnut is an expensive and very hardwood with a deep and rich brown color. Many of the more luxurious woodwork is made from walnut. Walnut will surely bring an astonishing elegance to your home kitchen decoration. For walnut, we suggest you check the Riff style. Very stylish and highly modern, Riff will proudly carry walnut's luxurious features upon its shoulders.
This is the end of our blog post for "What Are Different Types of Solid Wood Kitchen Cabinets"! If you are interested in following out popular trends for kitchen designs and our new kitchen products, make sure to check our other blog posts such as "Beautiful Blue Kitchen Ideas for Your Home", "How to Design a Small Kitchen", & "Kitchen Cabinet Colors and Styles for Summer".

We're sure you'll find more attractive ideas for styling purposes and select out the most suitable products for renovating your kitchen with our future blog posts as well. We also provide free kitchen design services for your home. Until next time, be safe and in good vibes!
---