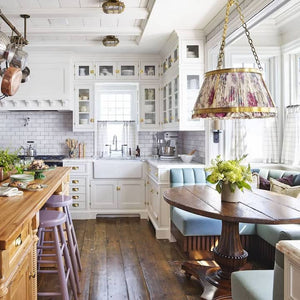 How to Design a Small Kitchen?
So, you got a small kitchen space and want to make the most out of it, yeah? Believe us, we totally get you, because all of us out here are crazed about renovating our lovely home spaces! Since the beginning of the coronavirus pandemic, we all have been stuck to our homes for the better part of our time and even if our jobs required us to work outside we still had to spend a majority of our time indoors. This was most simply due to our social circle working indoors. Thus, like many of you thought, we also focused on so to speak "reshaping" our environment for bringing a fresh and unique atmosphere for our home ecosystems.  

Efficiency is Queen When It Comes to Small Kitchens
With having less overall space, going for efficient products that save up a lot of room are paramount in terms of importance. You can have baskets on top of your kitchen cabinets for storing more items. Purchase and keep your cookware in a tidy formation such as stackable frying pans, layered saucepans, and full set dinnerware. Getting an over-sink drying rack would also save up a lot of space by simply utilizing an already reserved spot for your push-down or pull-out faucet. For cabinetry, you can use hooks to attain more space to hang your towels or daily cleaning equipment.
Have Every Workstation Close to Each Other
If you are someone that likes accessibility when cooking then we highly suggest that you install all of your workstations near each other. For instance, your cutting boards can be right above your neatly organized utensils drawer and your fridge can be right beside you to grab your ingredients for preparation. For food jars that conserve your grains, spices, and oils you can use the upper cabinets. Installing a pull-out pantry near these stations will also be tremendously helpful and efficient since you will be able to get everything further you need to put your artisan chef skills to display in your reach.
With Less to Cover, You Can Opt for Premium Products
Since you will be covering less space for your kitchen's renovation, you can go for premium and artisan decoration models. This way you will be attaining a very unique and luxurious look for your kitchens. We suggest going for natural and engineered stone types for cabinets such as Granite, Marble, Quartzite, and Quartz as they tend to have many color variations, which will surely amaze anyone stepping into your kitchen.
Bonus - Add Kitchen Details to Enrichen the Vibe
A small kitchen by all means does not mean having a less astounding kitchen. You can definitely enrichen the vibe by focusing on the kitchen details, such as Knobs & Pulls!
For knob selections, you can check out the Milan 2 series for their decorated square knobs. They have Brushed Antique Brass, Brushed Oil Rubbed Bronze, and Distressed Antique Brass for ornamental options. For a modern choice you might want to check out Gun Metal.
If you are more of a person that enjoys pulls, then you can check the same series for brushed antique brass and distressed antique brass.
For a more modern approach to pulls, the same series also offers contemporary finishes such as Brushed Pewter, Gun Metal, and the beautiful Satin Nickel.
This is the end of our blog post for designing small kitchens! If you are interested in following out popular trends for kitchen designs and our new kitchen products, make sure to check our other blog posts such as "Beautiful Blue Kitchen Ideas for Your Home" & "Kitchen Cabinet Colors and Styles for Summer". We're sure you'll find more attractive ideas for styling purposes and select out the most suitable products for renovating your kitchen with our future blog posts as well. Until next time, be safe and in good vibes!
---