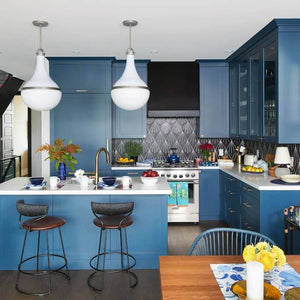 Beautiful Blue Kitchen Ideas for Your Home
If 2020 was the year of hygiene during the coronavirus crisis with white color-themed kitchens being on the rise, then blue kitchens are definitely going to be one of the most popular kitchen colors of 2022 due to everyone happily welcoming summer vibes! Let's admit it, white is still a very popular color for many of us, including myself! I love full-white kitchens still to this day, however, what I like, even more, are kitchens vibrating with blue colors. Blue is the perfect color to welcome the warmth and aura of summer with its maritime characteristic and positive energy.
Blue is a timeless color and it is no doubt rising in trends. When you are thinking about blue kitchen ideas there are lots of options. Just like white kitchens, blue kitchens have many color combinations. You can go for full-blue kitchens, opt for blue shades with brown overtones, perhaps even add exotic dashes with additional colors through countertop veins. To help you minimize this process with less headache we gathered a couple of beautiful blue kitchen ideas for your home.
Whether you are into full-blue kitchens, a two-tone mix of blue and white cabinets, or simply looking to add a few tones of blue, our beautiful blue kitchens will help you gain a good number of ideas and inspire you when renovating your dream kitchen. Check out them right below!
Maritime Vibes with Blue and White Kitchen Tones
If you adore cozy kitchen themes as well I do then you will enjoy the perfect mixture of blue and white tones in your kitchen! You can go with blue kitchen cabinets and white kitchen countertops. For blue kitchen cabinets, I suggest any selection from Omega Kitchen Cabinets as they are fully customizable and will be suitable for all of your needs. For a neat look, you can choose Omega's Vail blue lagoon color, and for white kitchen countertops, you can go with White Zeus or White Storm from Silestone countertops. Their combination creates a very neat and fascinating modern look for your kitchen!
Perhaps it is the other way around for you and you want to go with white kitchen cabinets accompanied by blue kitchen countertops. Then, I humbly offer you a fascinating white kitchen cabinet with St. Martin Cabinets Wellington series Simply White color scheme and Bergen Granite's Volga Blue granite countertop for your selection of blue kitchen countertops. They look dazzling in combination with white kitchen details!
Cozy and Warm Aura with the Inclusion of Brown
Now here's an all-time classic: brown and blue! Not only the inclusion of brown brings a very welcoming vibe to your kitchens but it also enhances the presence of blue overtones. I would choose hearty brown kitchen cabinets and go with blue kitchen countertops.
For brown kitchen cabinets, you can take a look at the gorgeous Artesia series from Omega Cabinets. Their Butternut color is delightful for any occasion. If you like to add even more coziness I may suggest going for a veined light-colored marble countertop. Bergen Granite's Sea Blue is an excellent choice for this.
Calm the Mind and Soul with Soft Blue Tones
Blue tones are ideal for softening the atmosphere of your kitchen and you will cherish their soothing effects on your mind and soul. We recommend going for blue kitchen countertops along with grey or light grey kitchen countertops.
For blue kitchen countertops, you can go with Silestone countertops. Their Bianco River quartz countertop will bring a neat shine to your kitchen. Light grey is a little trickier but you can't go wrong with Fabuwood Cabinets. They offer a very wavy and sleek-looking kitchen cabinet design with their Onyx Horizon cabinet.
If you want to go for a truly dreamy kitchen atmosphere then Bergen's creamy Blue Italian Star granite countertop along with Cubitac Cabinets Imperial Series Sofia Caramel kitchen cabinet will mesmerize your family along with your guests.
Bold Blue Tones with Complimenting Additions
If you are opting for a greater amount of blue color vibrance in your kitchens then you can add a dash of different colored kitchen details. More than brown, white is again an ideal partner for blue. We suggest opting for dark blue colored kitchen cabinets paired with neat white marble countertops.
Hans Krug cabinets offer both Violet Blue or Saphire Blue for dark blue cabinet options. They can be perfectly combined with Miami White from Silestone countertops. For an exotic option, you can pair your cabinets with Bergen's Aurora Blue granite countertop with its rich veiny appearance.
Additional Inspiration – Focusing on Matching Kitchen Details for your Blue Kitchen
One of the biggest advantages of the blue color is its astounding ability to highlight kitchen details! You can use knobs and pulls with ornamental or contemporary touches to lighten up the vibe in your kitchen.
If you are a person that enjoys knobs you can check out the Encada series for their beautiful ornamental designs that mainly display brown and antique color tones. Brushed oil rubbed bronze, distressed antique brass, brushed pewter, and square cable detailed knob are elegant selection choices. One of our favorite choices is the square cable detailed knob with antique finishing, which looks very unique.
For contemporary knobs choices, you must definitely check the beautiful satin nickel and brushed pewter with detailing.
Perhaps you prefer pulls, then you can check out the same finishes in Encada's pull series. For ornamental choices, you can again choose distressed antique brass and brushed oil rubbed bronze.
This is the end of our blog post for designing Beautiful Blue Kitchen Ideas For Your Home!  If you are interested in following out popular trends for kitchen designs and our new kitchen products, make sure to check our other blog posts such as "What are Different Types of Solid Wood Kitchen Cabinets", "Kitchen Cabinet Colors and Styles for Summer" & "How to Design a Small Kitchen".

We're sure you'll find more attractive ideas for styling purposes and select out the most suitable products for renovating your kitchen with our future blog posts as well. We also provide free kitchen design services for your home. Until next time, be safe and in good vibes!
---
1 comment