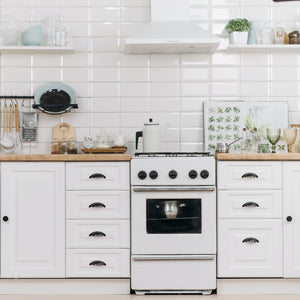 10 Most Popular Kitchen Cabinet Knobs & Pulls to Enhance the Beauty Within
Creating a perfect design for the dream kitchen you want to have is a detailed process, and at some point, you may find yourself drowning in the endless options of amazing styles, beautiful kitchen cabinets as well as countertops that fit perfectly with what you have in mind. You may think that everything is done once your imagination turns into a breathtaking reality; however, it is just the beginning and the draft of a masterpiece, because you will never believe the wonders you can do with the smallest details!
The little touch of an unexpected color, unique finish or the intensity of an unusual design on your kitchen cabinets can change so many things that you can even decide on the overall ambience of your kitchen depending on those details.
Being Aware of the Difference
You never know the importance of a small detail unless you witness the change and see the before and after appearance yourself. Although kitchen cabinet knobs and pulls may seem like the least important parts among all the other kitchen hardware products, they may actually hold the biggest role depending on the desired kitchen design.
Imagine a simple, white kitchen cabinet that you have likely seen anywhere, in any kitchen you have been to before. Now, keep changing the style of its handle. Imagine it with a knob that reminds you of your childhood, one that you've probably seen in your grandmother's kitchen. Then imagine it with a shining silver pull, radiating the modernness of the kitchen. Lastly, imagine it with a unique shaped one; so unique that it actually holds a different kind of elegance and aesthetic in it. One that would likely belong to a kitchen that somehow gives off a futuristic vibe.
Now, did you realize the difference? Even though they are considered to be small, and in some cases unimportant details, kitchen cabinet knobs, pulls and handles can end up being the game changers of a kitchen design.
Have You Ever Seen the Alternatives?
Just like the majority, if you haven't put much importance on the selection of kitchen cabinet pulls and knobs, too, then you probably haven't even seen the wide range of amazing alternatives they provide you with as well. Regardless of the design you wish to see in your kitchen, there are quite a lot of options when it comes to choosing the right cabinet pulls and cabinet knobs that will complement the overall look and atmosphere of the space.
In the middle of so many options, all you have to do is deciding on the style you want to go for and then, well, going for it!
10 Collections for Your Dream Kitchen:
There are countless different types of styles when it comes to kitchen design. You can choose to stick to today's great trends or decide to go for a rather futuristic ambience; however, if you are still missing the unforgettable beauty of the past and would like to bring that atmosphere back into your own kitchen, then this collection might be what you are looking for!
The nostalgic designs, as well as brushed antique brass finishes of Kingsport Collection's ageless decorative hardware will bring that "back to the future" vibes into your own kitchen.
If you think that dark yet ethereally beautiful trend of gothic has long passed the popular culture's attention, you are very wrong. Because the gothic beauty will never be out of style! You may still wish to see your kitchen giving off a mysterious vibe, and with the right choice of decorative hardware, that is totally possible.
With their satin nickel, brushed oil rubbed bronze, brushed pewter or antique brushed satin brushed finishes, the ancient looking designs of Bienville and Evangeline Collections will be a perfect choice for you.
Are you tired of seeing the same designs over and over again? Well, then it is time you saw some brand-new kitchen cabinet knobs and pulls ideas, and Breighton Collection's unique cabinet knobs might be what you have been looking for!
Either a knob or a pull, whichever is your selection, you will be provided with a wide range of different finishes. Therefore, we believe you will be able to find the right one for your kitchen very easily.
If you prefer functionality over appearance in kitchen, we can acknowledge your decision. Although taking risks ang going for a little boldness may be a great idea, for some people, the kitchen must be comfortable and simple. 
Hence, the simple yet modern and elegant designs of Belfast and Kenner Collections are on this list as well. The design is simple, but you can choose an unexacted finish to make a statement!
Mos of the time, simplicity is the best; however, we wouldn't deny a small touch of detail as well. You can always welcome a characteristic detail that would enhance the unparalleled ambience of your own kitchen!
With Modena Collection's simple yet characteristic designs and various color options, you can choose to go for a mix-and-match look by using both the cabinet knobs and cabinet pulls in your kitchen.
Let your decorative hardware speak, but not too loudly. There are amazing alternatives for a simple design, and every one of them would fit perfectly with any kitchen design. Not going out of your safety zone might be the best idea sometimes, and if you are thinking the same as well, you are at the right place!
There is an unspoken elegance in both Seaver and Merryville Collections' designs, and you might want to consider them for your dream kitchen.
We have never seen modernity loose in a competition, and there is a reason for it. No matter how many other options catch our eye, modern kitchen cabinet knobs and pulls are still here to win our hearts.
Florence Collection's simple, modern designs come with a wide range of color options. If you ask our opinion, we would first choose the small cup cabinet pulls and then try to find kitchen cabinets that fit them. Because this design is that good!
To learn more about kitchen design tips, you can read some of our blog posts such as; "Mesmerizing White Kitchen Cabinet Ideas", "How to Organize Kitchen Cabinets? Limited Space, Unlimited Ideas!", and "Fascinating Dark Kitchen Cabinet Ideas".
---