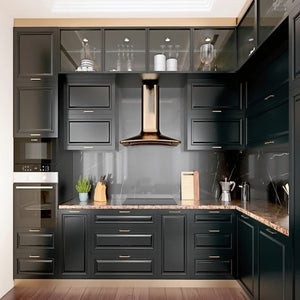 Fascinating Dark Kitchen Cabinet Ideas
The color of our kitchen cabinets is one of the most important aspects of decoration to consider when you are refinishing or upgrading your kitchen cabinets. Kitchen cabinets cover a substantial part of our kitchen and their influence on the overall theme is undeniable.
When crafted well, dark kitchens and dark kitchen cabinets can be majestic in appearance. Versatile, minimalistic, modern, and ultra welcoming, dark kitchens can leave whoever visits your home kitchen in awe.
On top of that, dark kitchen cabinets are quite formal and elegant. They attribute a sense of sophistication and luxury to their surroundings, especially when they are combined with well-designed ornate details.
When it comes to the selection of colors, dark kitchen cabinets can have a surprisingly wide spectrum of colors, which include popular ones such as black, gray, brown, and blue, as well as less known offbeat ones such as orange, green, and cherry.
Most Adorable Dark Kitchen Cabinet Color Palettes
To give you ideas regarding what type of mood and setting you want to go for we prepared a shortlist of dark kitchen cabinet color ideas below. We are sure that you will find familiar tones as well as new design choices for your dream home kitchen!
Mesmerizing Aura of Midnight Blue
Blue has always been one of the colors to leave an astounding effect on its viewers. That's why it is no wonder that when it comes to dark kitchen cabinet color themes, midnight blue makes an encapsulating appearance. You can combine the sleek shading of midnight blue kitchen cabinets with super white quartz countertops to attain a remarkable appearance for your kitchen.
In terms of suggestions, you can check out Ridgewood Midnight Blue and Newhaven Blue Slate from St. Martin kitchen cabinets. St. Martin's European-oriented style and details will bring a fascinating atmosphere to your home kitchen and living quarters.
The Sleek Elegance of Gray
Gray is a color that has been highly trending in recent years thanks to its versatile, sleek, and transitional outlook. As kitchen designs shifted to new paradigms ranging from minimalistic to complexly detailed ornaments, gray has gained a strong point for kitchen designers. While you can use dark gray themes to attain a resolute look for your kitchens, we suggest that you use light grey kitchen cabinets in combination with them to attain a nice contrasting theme for your kitchen.
Omega kitchen cabinets are an absolutely wonderful choice when it comes to brand selection and their wide range of custom kitchen cabinet models will leave you in the same opinion. For transitional vibes, we suggest that you choose models like Milena, Benson, and Denison. For the selection of color palettes, you cannot go wrong with Smokey Hills, Mitten, and Dove.
Espresso's Astoundingly Deep Beauty
If you are an avid coffee lover, the color of espresso will hit you right on the spot. Espresso's astoundingly deep rich color palette will leave a remarkably pristine vibe for your home kitchen. Just like gray, espresso kitchen cabinets have also been rising in popularity thanks to their unique position of being between transitional and modern kitchen cabinets in terms of style. For a truly fascinating look, you can combine espresso kitchen cabinets with black leather granite countertops and create a cozy and luxurious setting.
For espresso kitchen cabinet selections, make sure to check Cubitac kitchen cabinets' wonderfully deep-toned Dover Espresso. Cubitac's usage of long-lasting hardwood and high-quality painting will create a very rich and modern decoration theme for your contemporary kitchen style.
Dark Splendor of Hardwood
Sure, painted cabinets might look nice, but have you ever gazed upon the natural beauty of hardwood? They absolutely look amazing and have a very transitional vibe when used in relation to dark color themes. Unlike traditional kitchen cabinets, dark hardwood will provide your home kitchen with a resolute look as well as a cozy atmosphere. 
For dark hardwood kitchen cabinet options, you can check out Smoked Eucalyptus and Palisander Santos from Hans Krug kitchen cabinet collections.
This is the end of our blog post for designing "Best Outdoor Kitchen Cabinet Ideas"! If you are interested in following out popular trends for kitchen designs and our new kitchen products for 2021, make sure to check our blog posts below!
To learn more about kitchen design tips, you can read our blog posts; "Best Outdoor Kitchen Cabinet Ideas", "Bring Serenity to Your Home with Gray Kitchen Cabinets", "How to Clean Kitchen Cabinets?" and "Kitchen Cabinet Colors and Styles for 2022".
Additionally, you can check our smart wall solutions, tray dividers, stainers, and Lazy Susans to utilize your kitchen space more efficiently.
We're sure you'll find more attractive ideas for styling purposes and select out the most suitable products for renovating your kitchen with our future blog posts as well. Until next time, be safe and in good vibes!
---