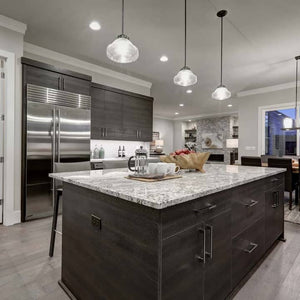 Bring Serenity to Your Home with Gray Kitchen Cabinets
Gray is such a color that it somehow works perfectly for kitchens every single time. The color's natural charisma swinging between relaxation, neutrality, and bold representations creates a very balanced decoration for our homes and kitchens. Of course, the process of choosing gray shades is very important as they all have a different statement to make.
Whether you want to create contrasts with brighter hues present on your walls or kitchen countertops, design a modern and bold living space, or bring an air of serenity to your home gray is the perfect color to choose. Gray kitchen cabinets are therefore gaining popularity due to these reasons. That is why more and more homeowners are preferring grey kitchen cabinets over their all-white or brown counterparts.
It may be argued that gray as a color for modern kitchen cabinets may be dull or even uninteresting. However, any color that is chosen without its surroundings or style into consideration might have the same attributes. It all ultimately comes down to how you bring together different textures, colors, and materials to create a dazzling kitchen! For this purpose, we gathered together different hues of gray kitchen cabinet ideas to spark an idea for your new kitchen design.
Elegance in Simplicity – Light Gray Kitchen Cabinets
With their bright and soft tones, light gray kitchen cabinets are all about elegance and freedom. When used together with bright tones, light grey can freshen the environment and bring an air of relaxation. The color is versatile and easy-going, which means it will accommodate many different types of textures and colors present within your kitchen space. For different grey kitchen ideas and styles, you can create contrasts with even very bright colors such as white, light blue, or even salmon pink.
Light grey kitchen cabinets also allow drawing attention to the lightning of its surroundings, both in natural and electrical forms. You can combine copper or metal lightning with orange light for a modern yet rustic environment reminiscent of the wild west bars. You can also prefer minimalistic lightning and create a very modern habitat. The choices are very diverse and an experienced designer can even help you further with these choices.
Welcome Grandeur into Your Home – Dark Gray Kitchen Cabinets
Now talking about dominant and deep colors, dark gray is a fantastic choice. Not as dark as its black counterpart, yet majestic and grandiose in every other aspect, dark grey kitchen cabinets make a remarkably bold statement for anyone visiting your home. You can obtain very striking visuals by combining dark grey with tones of white, brown, light yellow, orange, or gold for your kitchen.
Dark gray's deep yet alluring tone creates an air of expectation and opulence for your kitchens. That is the reason why dark gray kitchen cabinets have been in high regard in recent years. Their combination with modern and vibrant details creates inspirational kitchens that are attributed as cool, sleek, and clean.
The Finest of Modern Times - Shades of Gray Cabinets with Details
If you are a person that loves to reflect your personality through your living spaces, gray can tell many stories about you. Like contemporary designs and urban life? You can opt for industrial themes with metal countertops and gray kitchen cabinets. Enjoy the grandeur of elite lifestyles? You cannot go wrong with copperware orange lighting surrounded by light gray cabinets with minimalistic sleek designs. Want to get a relaxing yet strong aura in your kitchen? Smoky dark gray kitchen cabinets will definitely do the trick for you. As you can see, the choices are far and wide when it comes to creating unique kitchen designs with grey kitchen cabinet ideas.
Bonus: Utilize Gray Kitchen Backsplashes
To further boost the look of your gray kitchen, we suggest that you have a look at gray kitchen backsplashes as well. They will not only boost the overall atmosphere of your kitchen but also be a creative way to add smart decoration details.
This is the end of our blog post for "Bring Serenity to Your Home with Gray Kitchen Cabinets"! If you are interested in following out popular trends for kitchen designs and our new kitchen products, make sure to check our other blog posts such as "How to Safely Remove Your Kitchen Cabinets?" & "Kitchen Cabinet Colors and Styles for 2022", "How to Choose Cabinets Knobs and Pulls", "Most Popular Kitchen Cabinets Knobs and Pulls"
We're sure you'll find more attractive ideas for styling purposes and select out the most suitable products for renovating your kitchen with our future blog posts as well. We also provide free kitchen design services for your home. Until next time, be safe and in good vibes!
---