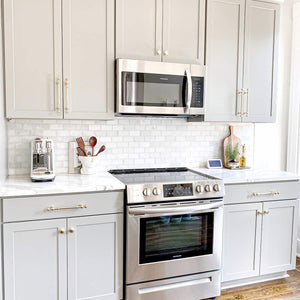 How to Choose Cabinet Knobs and Pulls
The kitchen is one of the highest function areas of the home: We spent a significant amount of time there preparing food, eating, and having quality time with our family and guests. All in all, there is a reason why people call the kitchen the heart of the home!
As a result, it is essential that your kitchen reflects your unique taste in interior design and is functional. From countertops to kitchen cabinets & knobs, every detail of your kitchen must complement the overall aesthetic you are going for and offer functionality. 
During kitchen remodel, people pay a lot of attention to kitchen cabinets, countertops, backsplashes, and other "big" kitchen elements, but hardware tends to be an afterthought. But the right cabinet pulls make a significant contribution to the design of the kitchen by elevating the room. Moreover, knobs and pulls help you protect the beauty of your kitchen cabinets: When you have functional knobs or pulls, you don't touch the kitchen cabinet and transfer oils on your fingers to the cabinet surface. As a result, the finish of your cabinets lasts much longer.
Maybe you are remodeling your kitchen, or you need a low-budget makeover to refresh the highest traffic area of your home. Regardless, take a closer look at our cabinet knobs and pull ideas before making a purchase! We are here to tell you what to pay attention to while buying cabinet pulls, knobs, and kitchen cabinet hardware ideas about pulls and knobs.
Pulls or knobs: Which one do you want?
There are two options when it comes to hardware: Kitchen cabinet knobs and kitchen cabinet pulls. You can opt to use only one or go for a combo since there is no strict rule.
Most of the time, knobs are preferred for cabinet doors, and pulls are chosen for drawers for the sake of ease of use, yet there are, of course, exceptions. Sometimes pulls are preferred for drawers, especially in baseboard bathroom cabinets, and knobs are selected for kitchen cabinets mounted on the wall. 
When you need to decide, try to think about your needs and your kitchen. Also, consider the overall aesthetic of your kitchen. The ideal pull or knob must be easy to use and complement your lifestyle. 
Pulls
Most of the time, pulls are bigger than the knobs. As a result, they are easier to grab. Pulls come in different sizes and materials, making them suitable for various kitchen designs. Pulls are perfect for you if you want to make a statement or add a bold piece to your kitchen.
Due to their linear shape, pulls often elongate drawers or cabinets, thus, adding depth to your kitchen.
Since pulls are easier to grab and grip, they are often preferred for large drawers, large cabinets, and pull-out doors like pull-out base pantries and trash pull-outs.
Knobs
Knobs are smaller and less attention-grabbing than pulls. Moreover, they are considerably more budget-friendly and easier to install. Using only one screw, you can secure the knob on the surface of your cabinet or drawer all by yourself!
You can use knobs for both drawers and cabinets. If you are after traditional kitchen cabinet hardware, using all knobs might be the perfect fit for you.
As we mentioned earlier, you can go for an all-pulls or all-knobs kitchen design, but it is also possible to mix and match! You can use pulls for drawers and knobs for cabinets or vice versa. You only need to consider the functionality and your taste. 
Different styles
Kitchen hardware comes in different styles and materials. Before you make a purchase, learn more about different types to purchase the hardware that best complements the overall design of your kitchen. 
Contemporary Kitchen Hardware
Contemporary kitchen knobs and pulls have a sleek look: No ornaments, eye-catching shiny materials, and a neutral color palette. If you want to highlight the beauty of your kitchen cabinets with hardware, you should choose a contemporary style.
Contemporary pulls and knobs look best with minimalistic and sleek kitchen cabinets and countertops. Linear, no-nonsense pulls add some depth to contemporary and modern kitchens. 
Most hardware in this style comes in stainless steel; thus, they are very durable and require little to no upkeep.
If you want contemporary pulls or knobs, check out Hammond, Strickland, Callie, and Somerset brands. They offer budget-friendly, functional, chic, and durable options.
Transitional Kitchen Hardware
Transitional kitchen hardware offers the best of two worlds: The beauty and elegance of traditional style and the functionality of modern style. 
If you have a traditional kitchen, you can spice it up with transitional hardware, or if you want to add some pizzazz to your modern kitchen, you can go for transitional hardware and add some bold, eye-catching elements to your kitchen.
Cup handles, brass knobs, and earthy tones can be found in transitional kitchen hardware collections. If you want to invest in some high-quality transitional knobs and pulls, some brands you should consider are Park, Watervale, Florence, and Capri. 
Traditional Kitchen Hardware
The traditional kitchen style is considered to be timeless. If you want to add value to your home and make sure that your kitchen will look fresh and fashionable in the following decades, you should consider traditional hardware.
Characterized by intricate and ornated details, traditional hardware can come in different materials, including metal, stainless steel, brass, and even porcelain overlay. 
Porcelain overlay kitchen hardware is often used for adding a vintage look to the kitchen but these traditional pulls and knobs require some care and maintenance.
If you want to add some sophisticated details to your kitchen, you should check Syracuse, Glenmore, and Maybeck brands for traditional kitchen hardware. They offer durable and aesthetic options that will instantly elevate any kitchen.
Rustic Kitchen Hardware
The rustic kitchen aesthetic has gained significant popularity in recent years due to its welcoming and warm look. Often coming in bronze and copper, rustic hardware collections also offer black kitchen cabinets and pulls.
If you want to create an inviting and homey kitchen, rustic hardware is the best answer. Over time, rustic kitchen knobs and pulls have a finish that develops a patina over time -Thus, they elevate the kitchen's overall look while preserving their value despite the test of time.
If you want to make your kitchen look elegant and cozy, you should consider Glendale, Maybeck, and Drake brands to purchase from. They offer stylish and one-of-a-kind rustic kitchen pulls and knobs that will highlight the beauty of your kitchen design.
Eclectic Kitchen Hardware
If you want unique cabinet knobs or eye-catchy cabinet pulls, eclectic kitchen hardware is the best fit for you! Combining the characteristic elements of different styles, eclectic hardware offers stylish and functional options. 
Shiny or matte finishes, ornate details, sleek looks, different materials, chic patterns, and much more can be found in eclectic collections of Solana, Drake, and Vienna. If you need a statement piece in your kitchen, don't hesitate to take a closer look at these high-quality brands.
Different hardware materials
You can find durable and stylish kitchen hardware in a wide range of materials: Stainless steel, brass, copper, metal alloys, porcelain overlay, and many more. 
Before you make a purchase, carefully consider your needs and the overall aesthetic you are going for. Since the kitchen is a very high-traffic area, your hardware must perfectly answer all your needs to get the most out of your renovated kitchen.
Today, the most popular hardware material is metal alloys since they are durable and complement many different styles. 
Another option is, of course, brass hardware. Brass kitchen pulls and knobs offer a vintage and characteristic look. Moreover, they are very durable and require little to no care! Most brass hardware is coated with a layer of lacquer or paint to be well protected from daily wear and tear. The best part is that brass is an antimicrobial material: It helps reduce the spread of germs and contributes to the overall hygiene of your kitchen. That is why brass pulls, and knobs are preferred in many professional kitchens.
Another chic and antimicrobial option is bronze. It offers an elevated and classic look that will make any kitchen more sophisticated. It is the best option for kitchen cabinets made of thick wood. 
Stainless steel is another good option, often preferred in more modern and sleek designs. It is effortless to maintain and clean; moreover, it retains its shine and a new look for a very, very long time. 
Suppose you want to express your unique style. In that case, you can also choose alternative materials like nickel, pewter, glass, ceramic, or crystal but remember that these materials require more maintenance and care than more popular options.
If you'd like to know more about kitchen pulls and knobs, feel free to contact us. We offer our expertise and know-how to realize your kitchen dreams.
Check other Kitchen Hill blogs to learn more about the kitchen design:
How to Organize Kitchen Cabinets? Limited Space, Unlimited Ideas!
Fascinating Dark Kitchen Cabinet Ideas
---