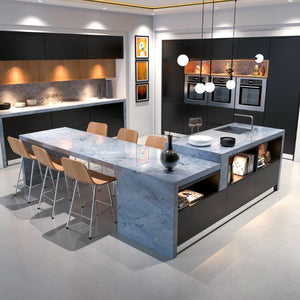 Trending Beautiful Kitchen Countertop Ideas
Who doesn't love enjoying a hot cup of chocolate while reading their gripping novel in front of their window under the relaxing vibe of rain? For this reason, alone we could say that cold seasons are one of our favorite times of the year. Both fall and winter are beautiful seasons known for its epic scenery, soothing nature, and mesmerizing colors. Talking about colors, kitchen designs already shifted their focus towards autumn and winter seasons with beautiful new decoration themes coming forward. To help giving you insight into these we prepared a trending kitchen countertop ideas list for you below!
Popular Material Types for Trending Countertops
While color is a major component of our kitchen design templates, the material is undoubtedly the most important aspect when it comes to determining your kitchen countertop. The reasons are simple, but here are a few; lifelong durability, addition of value to your property, high-quality visualization, and the addition of a luxurious feeling are all tied to the type of your countertop material. So, you might be wondering which countertop material is best for my home? Here are four distinct natural and engineered stone materials that are a perfect fit for your kitchen countertops in alignment with the trends of the current seasons!
Trending Quartz Countertops
You have undoubtedly heard about quartz countertops if you are looking for the best options for your home kitchen renovation. Quartz is a man-made engineered stone that works as well as, or even better, than its natural stone counterparts. Quartz kitchen countertops are created during a process where extreme heat and pressure blends quartz crystals, polymers, resins, pigments, and other unique materials to form a very durable countertop surface. Let's check the pros and cons of quartz countertops below.
Pros of Quartz Countertops
Quartz countertop color choices are virtually limitless as they are engineered stones,
One of the most defining characteristics of quartz countertops is their beautiful appearance that provides a very refined and modern look for your kitchen,
Extremely durable countertops that are essentially non-porous in structure,
Resistant to spills, staining, and damages,
Very easy to clean and maintain,
Cons of Quartz Countertops
Quartz countertop costs can be higher than their natural stone counterparts,
While being extremely durable against blunt damages, quartz countertops are not very good with heat as they have resin within their structure,
Quartz countertops are beautiful countertops; however, their style generally fits modern and sometimes transitional kitchen styles due to their most contemporary nature,
White Quartz Countertops
Elegant and vibrant, some variations of white quartz countertops are said to rival Carrara marble countertops in terms of beauty. With the addition of extra durability and less maintenance, white quartz countertops are a no-brainer for your family homes that love the all-time favorite white color.
Gray Quartz Countertops
Rising in popularity in recent years thanks to the modern design templates dominating the kitchen design industry, gray quartz countertops are another sophisticated option for any home looking for a contemporary design. Gray's neutral color palette will go very well will pretty much any color option.
Trending Quartzite Countertops
Often confused with quartz due to their grammatical similarity, quartzite countertops are very impressive on their own. Their bright color patterns with benevolent undertones and deep long veins will ensure that your quartzite countertops will be the jewel of your kitchens. Unlike quartz, quartzite countertops are formed in nature under extreme pressure. This gives quartzite its unique property of having very high resistance to chemicals, heat, UV light, and damages. With their inherent beauty, shine, and unique properties, quartzite countertops are sure to bring a wonderful atmosphere to your home.
Pros of Quartzite Countertops
Quartzite countertops are extremely durable and they will last for a long time if taken care of,
The natural shine and beauty of quartzite countertops will surely enlighten your living quarters like never before,
Quartzite is a relatively easier natural stone material to maintain in comparison to marble,
Very high resistance to chemicals, heat, UV light, scratching, and denting,
Cons of Quartzite Countertops
Quartzite requires periodic resealing to maintain it for a long time,
Some variations of quartzite countertops cost higher in comparison to their other natural stone counterparts,
Quartzite countertop colors for its base is a bit lacking in comparison to its marble and granite counterparts,
Black Quartzite Countertops
A rare catch, black quartzite countertops are truly a marvel. Their distinctively deep and rich tone is accompanied by a subtle and fluid pattern. This brings black quartzite countertops their inherent beauty and mirror-like finish. Not for the faint-hearted, black quartzite countertops will surely make a majestic welcome for friends and guests alike.
Blue Quartzite Countertops
Eclectic in nature and beautiful in appearance, blue quartzite countertops are amongst the most coveted variations of quartzite countertops. This variation generally comes with a cool-blue background flourished with dark blue and/or orange veining throughout the slab. This combination of colors is sure to create dazzling imagery for anyone visiting your home.
Trending Granite Countertops
Granite is one of the most durable and beautiful natural stones found in the world. Due to its unique structure, no granite slab is the same as one another. The color spectrum for granite is so vast that you can find any type of color variation you are looking for, of course for the right price. Easy to maintain, majestic in appearance, highly durable, and resistant to heat, granite countertops are sure to win over your hearts and minds as being an option for your home kitchen.
Pros of Granite Countertops
Granite countertops are super hard and very durable,
Their material is highly resistant to scratches, denting, and heat,
Cleaning and maintaining granite countertops are very easy,
Granite countertop color spectrum is very wide and often offer multiple layers of color node options,
Cons of Granite Countertops
Requires periodic resealing for retaining durability in the long run,
Granite countertop cost can rise quite high with exotic variations such as purple granite and blue granite,
Green Granite Countertops
Green granite countertops rose in popularity in recent years due to their ability to blend in both modern and transitional kitchen styles whilst being reminiscent of natural environments. Found in scarce quantities in comparison to black granite and white granite, green granite countertops are surely a sight for sore eyes if you are lucky to obtain an elegant slab for your renovation project.
Brown Granite Countertops
A unique combination of simplicity and depth, brown granite countertops are the definition of transition. Generally coming with lots of different speckles of color, brown granite countertops can blend in pretty much any environment with any number of details. A mixture of three main colors; red, yellow, and blue, brown granite countertops are a true amalgamation of nature's endless deserts and ancient sites.
Trending Marble Countertops
Adorning the halls of the wisest rulers and seats of the largest empires, marble is truly a wonderful natural stone. Mainly a sedimentary rock, marble has been used to depict beauty, elegance, and opulence wherever it's used. While the majority of the population believes that marble only comes in white form, that is far from the truth. Having numerous and, mainly exotic, color selection options, marble will make your guests covet your kitchen like never before.
Pros of Marble Countertops
Marble countertops are the personification of a luxurious and high lifestyle,
The addition of marble countertops will raise the value of your property,
Natural veining nodes and color strokes bring unparalleled beauty to your living quarters,
While used to be reserved only for the elite segment of the society, it is now readily available and highly popular all over the US,
Cons of Marble Countertops
Marble has a porous structure that makes it vulnerable to staining,
Heavy objects can cause dents and scratches on the surface of marble countertops if attention is not paid enough,
They require periodic resealing to preserve their beauty,
Marble countertops colors can be limited or lack supply for some variations such as purple marble, pink marble, and red marble,
Some variations of marble countertops can cost much higher than their regular forms such as the world-famous Carrara marble,
Carrara Marble Countertops
Perhaps one of the best-known marble types, the world-known Carrara marble countertops are one of the finest additions to your home kitchen. Timeless and totally on-trend, Carrara marble will be both a luxurious and fine option for your kitchen.
Pink Marble Countertops
For those who love pink, it is the best color in the world! Don't let anyone tell you otherwise, especially if you have daughters running around with their Barbie dolls that love this beautiful color. While the name pink may imply that the color is neon-like, pink marble countertops are rather similar in tone to that of flamingos and rosewood. Certainly, a very exotic and appealing option, pink marble countertops will bring the property of uniqueness to your home in the most elegant manner.
This is the end of our blog post for designing "Trending Beautiful Kitchen Countertop Ideas"! If you are interested in following out popular trends for kitchen designs and our new kitchen products for 2022, make sure to check our blog posts below!
To learn more about kitchen design tips, you can read some of our blog posts such as; "Mesmerizing White Kitchen Cabinet Ideas", "Fascinating Dark Kitchen Cabinet Ideas", and "Best Outdoor Kitchen Cabinet Ideas".
We're sure you'll find more attractive ideas for styling purposes and select out the most suitable products for renovating your kitchen with our future blog posts as well. Until next time, be safe and in good vibes!
---