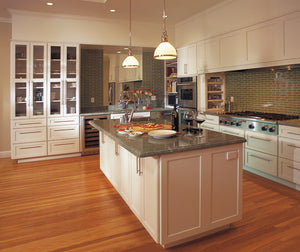 Shaker Kitchen Cabinets
Shaker kitchen cabinets are a timeless and elegant choice for your house, combining beauty and quality craftsmanship. Its unusual name comes from the "shaking Quakers" movement and is a cabinet style renowned for its simplistic beauty, functionality, and durability. Shaker cabinets have a rich and long history.
Moreover, they continue to steal the hearts of homeowners with their elegant designs. Crafted from solid wood, they boast features such as their iconic shaker-style doors, which have become synonymous with quality. Whether you are a fan of shaker-style kitchen cabinets, seeking a modern interpretation, or this is the first time you have heard about this cabinet called shaker, here you will discover why they remain a cherished option for creating beautiful and functional kitchen spaces that stand the test of time.
Timeless elegance
Shaker kitchen cabinets bring a timeless elegance that wows homeowners and interior decorators alike. As it has a simple and minimal design, its signature style has stood the test of time, becoming a sophisticated and refined taste symbol.
Its clean lines and simple yet thought-out design create a design element that is harmonious with all of the other elements in the kitchen. It finds a unique balance as it has a characteristic design, but it is so simple that it allows other elements to shine on their own. Therefore, it can resonate with many different styles and aesthetics.
Versatility
One of the most helpful qualities of shaker cabinet style is its versatility. They can fit in with various styles such as sleek modern, rustic farmhouse, classic traditional, and more. This quality makes them an ideal choice for homeowners who want flexible cabinetry compatible with different options and designs.
As it has a simple style without excessive details and embellishments, it can also complement various color palettes. Especially neutral tones and colors, such as white shaker cabinets, are an ideal option for their chameleon-like ability to blend in seamlessly. They can harmonize with kitchens that lean towards a warm, earthy, organic, and rustic look or with cool, sleek, modern designs. They provide a canvas that allows your personality, kitchen, and house to shine.
Functionality
Shaker cabinets were first designed with functionality as the primary goal at the front and center. After decades, that main goal remains, and shaker cabinets keep their practical design philosophy. Focusing mainly on convenience and ease of use, they offer homeowners a well-organized and efficient kitchen space.
The carefully planned layout of the cabinets ensures that the storage space is maximized while being accessible and ensuring that each cabinet serves its purpose. This approach creates a kitchen that helps you in your daily tasks instead of making them even more difficult. Most importantly, it enhances the joy you can get out of cooking nourishing meals for yourself and your loved ones.
East to maintain and clean
Cooking, grocery shopping, dishwashing, cleaning, the kitchen is a room in the house that has enough chores associated with it already. Therefore having easy-to-clean and -maintain cabinets is a great advantage. As there isn't intricate design or fixtures, there is less surface area for dust and dirt to get into and create buildup. This allows for a streamlined process, including a quick wipe of the surface using mild dish soap and a soft microfiber cloth for daily cleaning. The dish soap and soft cloth combo are enough to maintain the cabinet's pristine appearance.
Of course, sometimes, a deep clean is required. For those instances, use a cleaner that doesn't include harsh chemicals or abrasive ingredients to ensure the finish on the cabinets doesn't get damaged and the longevity of the cabinets is protected.
Durable construction
Shaker cabinets were able to withstand the test of time so successfully and effortlessly because of their master craftsmanship. They are renowned for their durable construction, which ensures their longevity. They are created with high-quality materials, such as solid premium wood and strong hardware. Hence, they can withstand the hustle and bustle of a busy kitchen without a problem.
Whether providing the demands of a busy kitchen by creating daily meals or aging gracefully with time, shaker cabinets prove themselves and their worth over and over again with their non-compromising resilience and ability to preserve their beauty and functionality for many generations.
Adaptable and customizable
Shaker-style cabinets offer adaptability and customizability, making them an ideal option for those looking for a kitchen remodel. These qualities allow you to personalize the kitchen space. Thanks to their minimal design, they can blend many kitchen designs, allowing you to have a traditional, eclectic, or modern kitchen, depending on what you desire.
They can be customized with various cabinet colors, different finishes, hardware options, center panels, and more, allowing you to create your dream kitchen. It serves as a blank canvas on which you can exercise your creativity and enable you to truly express your unique style.
Increased resale value
If you are considering any extensive home improvement project, you should also consider the investment aspect of them. Shaker cabinets are a wise and popular choice because of the utility and joy you will get out of them and because they can be a very beneficial long-term investment. As they have proven to have timeless appeal and are known for their high-quality artisanship, they can significantly increase the resale value of your property.
Moreover, they will not only increase the value, they will also be a huge wow factor. Potential buyers will be drawn to its timeless elegance and unparalleled functional design. Overall, shaker cabinets are a desirable feature that enhances the value and appeal of the property.
In short, shaker kitchen cabinets offer various advantages that aim to look pretty and make your life and your time in the kitchen easier and more efficient. If you are interested in this timeless style, reach out to our expert team for more information.
FAQs
What do shaker-style kitchen cabinets mean?
Shaker-style cabinets are a style of cabinets that are known for their simplicity and functionality. They feature clean and minimalist lines alongside flat-panel doors with a recessed center panel. Over time, shaker cabinet doors have become this style's signature and an iconic and easily recognizable design element.
What is so special about shaker cabinets?
Shaker-style cabinets are made from solid wood and prioritize functionality and efficiency; the layout is designed to allow maximum storage space while still being accessible and easily usable. Moreover, they are able to blend into many different aesthetics seamlessly.
What is the difference between shaker cabinets and regular cabinets?
Shaker cabinets are usually differentiated from others due to their minimalistic look and flat panel doors with a recessive center. On the other hand, the term regular cabinets can encompass an immensely wide variety of styles and designs. Shaker cabinets are known for their specific two-layered door design, durability, and longevity.
Are Shaker cabinets expensive?
The cost of shaker-style kitchen cabinets will vary significantly depending on several factors, including the quality of materials and the size of the kitchen. Generally, shaker cabinets made from solid wood are more expensive than those made from engineered wood.
---