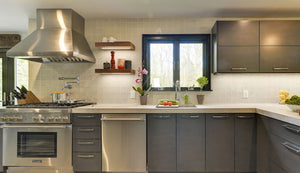 Oak Kitchen Cabinets
Depending on the color of the cabinets, a kitchen can look very different. Your home's most significant color should be carefully chosen because it has an impact on a variety of factors, including how you feel, how much your house will be worth when you sell it, and even how frequently you will need to clean. Therefore, think about the following before making a choice!
Factors to Consider When Choosing Kitchen Cabinet Colors
Concept: Consider the atmosphere you want to establish. The color of your cabinets needs to express your personality because they take up most of the visual area and significantly impact the atmosphere of your kitchen. You can select the colors for the other kitchen accessories after deciding on the color of your cabinets.
Inspiration: In order to find inspiration for kitchen cabinet color, search online photo galleries and publications on interior design. These sources can teach you how to use various color palettes and colorful accents. If you take the time to do your research, you can be certain that you are aware of all your options.
Design: Examine the layout. Your list of options should be whittled down with the help of your kitchen's design. While bright colors are frequently the best choice for more modern designs, creams and whites are good options for cabinets if your kitchen has a more traditional design.
Size: Darker cabinets may give the impression that your kitchen is cramped or poorly lit. A small kitchen will appear bigger and more open if the cabinets are painted lighter.
Potential: You should consider colors that appeal to buyers because you never know when you might decide to sell your home.
Oak Colors for Kitchen Cabinets
Traditional kitchen designs frequently feature oak kitchen cabinets. Oak is a sturdy, hard, and heavy type of wood. Additionally, it has a coarse grain pattern that is very noticeable, which makes it a popular choice. You might want to take into account the fact that oak is available in a variety of colors if you're thinking about using oak kitchen cabinets in your kitchen renovation. 
Red oak cabinets are recognizable for their reddish-brown color and distinctive grain pattern. They are a common option for traditional and rustic kitchen designs. Thanks to the red oak wood's inherent warmth and character, your kitchen will feel warm and welcoming. 
White oak cabinetshave a tight, straight grain and have a light-colored, pale appearance. They are famous for homeowners seeking modern and contemporary kitchen designs because of their sleek, clean appearance. 
Quarter-sawn oak cabinetshave a distinctive medullary ray fleck pattern that is only noticeable when the oak wood is cut at a particular angle. It adds a subtle touch of luxury and elegance. Quarter-sawn oak is frequently used in high-end kitchen designs.
Rift-sawn oak cabinetshave distinctive linear grain patterns resulting from a particular cutting technique perpendicular to the wood's medullary rays. Any kitchen benefits greatly from the touch of luxury and elegance added by rift-sawn oak, a premium wood. 
Rustic oak cabinetsare distinguished by their rough and unpolished appearance, which includes noticeable knots, inherent flaws, and color variations. This will give your kitchen a more natural and organic appearance.
Oak costs less than maple, cherry, or birch, which is advantageous for the kitchen designer on a tight budget. Thanks to this decrease, you can purchase very affordable kitchen cabinets in various styles and colors for a lower price. Because oak kitchen cabinets are frequently in stock, remodeling a kitchen is significantly less expensive. 
Several Reasons to Choose Oak Kitchen Cabinets
Being environmentally friendly
Environmentally harmful chemicals are frequently used to produce cabinets made of particleboard or other materials. These materials occasionally contain formaldehyde as well, which is harmful if inhaled. 
Oak cabinets are a more environmentally friendly option because they are made of solid wood. They won't release dangerous chemicals into your house, improving the air quality and making it safer to breathe. 
Additionally, it is a more sustainable option because oak can keep growing and be obtained ethically.
It's well known that oak cabinets last a long time. They can last for many years due to their durability and resistance to water. 
However, it's equally crucial that you take the best care of them possible by refinishing them as necessary or cleaning them when they get soiled or food-stained. Additionally, you should wash them with some mild soap and water, wiping them with a microfiber cloth while going with the grain. 
Oak cabinets have a lovely grain that exudes coziness and warmth. Oak cabinets have a timeless aesthetic. 
The appearance of oak cabinets blends well with almost any kitchen theme or layout. They can accommodate any style you prefer, whether it be contemporary, rustic, or farmhouse. Oak cabinets are the ideal option if you want real flexibility in your kitchen.
Having customizable structure
Oak cabinets can be made in any size and shape because they are made of solid wood. This implies that you're typically not constrained to particular dimensions and sizes and can, in a sense, create custom-size cabinets. 
Customized kitchen cabinets might be a little more expensive, but they are worthwhile if you intend to live in your house for a long time or can't find another cabinet type that fits your measurement needs.
Oak cabinets are incredibly strong and long-lasting. Not only can they withstand heavy use, but if one is chipped or otherwise damaged, repairs can be made quickly and simply by sanding the affected area. 
The oak cabinets in your kitchen will no doubt withstand any jolts. Additionally, oak cabinets are moisture-resistant and won't expand when exposed to moisture and humidity. 
The Color Options are Endless at Kitchen Hill
One of the most crucial elements of interior home design is color choice. Therefore, Kitchen Hill provides the best options. No matter if you prefer an elegant portrayal with black kitchen cabinets, a classic look with white cabinets, or an exotic and unique atmosphere created by oak cabinets.
Thanks to the years of experience in kitchen remodeling, you can be sure that you'll find what you're looking for from a large selection of kitchen cabinets and countertops.
Since you will be looking at your kitchen cabinets every day, pick colors you love and can live with. This brings up the final and possibly most crucial piece of guidance.
---