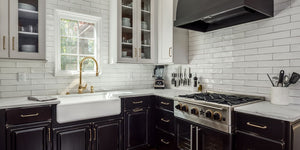 Black Kitchen Cabinets
Depending on the color of the cabinets, a kitchen can look very different. It's essential to take the time to choose what is possibly the most significant color in your home because it influences a variety of things, including your mood, the resale value of your home, and even how frequently you'll need to clean. So, think about the following first before choosing!
What to Consider When Choosing Cabinet Colors
Concept: Consider the environment you want to produce. The color of your cabinets must express your personality because they take up the majority of visual space and have a big impact on the atmosphere of your kitchen. Choosing colors for other kitchen fixtures can be done after you've decided on the color of your cabinets.
Inspiration: Finding inspiration for your kitchen cabinet color can be done by browsing online photo galleries and interior design publications. You can learn how to use various color schemes and colorful accents from these resources. If you invest the time to conduct your research, you can be certain to be aware of all your options.
Design: Look at the layout. You should be able to narrow your options with the help of your kitchen layout. While bright colors are frequently the best choice for more modern designs, creams and whites are good choices for cabinets if your kitchen has a more traditional design.
Size: Darker-colored cabinets could give your kitchen a cramped or poorly lit appearance. A smaller kitchen will appear larger and more open if the cabinets are a lighter shade.
Potential: You never know when you might decide to sell your home, so consider colors that appeal to potential buyers.
Black Colors for Kitchen Cabinets
Black kitchen cabinets are still in demand as a design trend because they produce a striking, bold appearance in both traditional and modern styles. They will undoubtedly add sophistication, opulence, and urbane style to any space. 
Since black kitchen cabinets are unexpected while still being fashionable and look great in almost every place, you might decide to combine those striking tones with a striking set of black kitchen cabinets, especially with the influx of new paint trends in 2023.
A completely black kitchen can make a bold statement, particularly if the rest of the house has a lighter color scheme. The all-black aesthetic can exude luxury and glamour, giving the room a high-end atmosphere. 
It's important to remember, though, that not everyone would enjoy an entirely black kitchen, especially those who favor a lighter and cheerier space. That's why it's crucial to experiment with finishes, textures, and materials when designing an all-black kitchen to keep the room from feeling too sterile. 
The space can gain depth and texture by incorporating natural elements like wood, plants, or stone. Additionally, adding a touch of warmth and giving off an industrial vibe are metallic finishes like copper or brass.
Several Reasons to Choose Black Kitchen Cabinets
Black is a great color choice for kitchens because it looks stylish while still feeling warm and inviting. It's classy and inky and will do much to give your kitchen personality. If your space is larger, you may also enjoy a more intimate atmosphere when hosting guests or spending time at home with your family.
A timeless color that will always be in vogue is black cabinets. They are a reliable option for homeowners looking to create a contemporary look that will last for years. Anyone who wants a contemporary and classic kitchen should consider black cabinets because they are adaptable and go well with various design elements. 
Black cabinets are also less likely to look dated as time goes on, making them a wise investment for homeowners who intend to stay in their homes for a very long time.
Dark hues like black and others provide a lovely contrast. Black enhances the contrasting color and gives the room a more upscale feel, whether you choose the traditional black and white combination or add a pop of color with your backsplash, counters, or floors. 
For instance, dark or black cabinets will look stunning next to gleaming white marble counters. Install a wooden floor with a medium tone if you want to make the room feel cozier.
If your home has an open floor plan, you need to use some dark or striking color schemes to define the space. Your cabinets can be painted black to accomplish this. Your kitchen will be divided into distinct areas, giving your eye a place to rest. Along with dramatically standing out, it will also define the area.
Requiring low maintenance 
More resistant to stains and scratches than lighter-colored cabinets, black cabinets require very little maintenance. In addition, they require less maintenance to keep clean and keep looking good for longer. This can be a huge benefit for time-pressed homeowners who want a beautiful kitchen without spending much time maintaining it. 
Black cabinets also don't show fingerprints and smudges as easily as lighter-colored ones, which can be a problem. Nevertheless, they still need to be handled with care. They won't be as challenging to maintain as lighter-colored cabinets, which might require a wipe-down after each meal.
We are Here to Offer You the Best
One of the most critical factors in interior home design is the choice of color. Kitchen Hill consequently provides the best options. No matter if you prefer a traditional appearance with white kitchen cabinets, a stunning portrayal with black kitchen cabinets, or an exotic and distinctive atmosphere created by green kitchen cabinets. 
Thanks to the years of experience in kitchen remodeling, you can be confident that you'll find what you're looking for from a wide selection of kitchen cabinets and countertops. 
Since you will be the one looking at your kitchen cabinets every day, choose colors you love and can live with. This brings us to the final and possibly most crucial piece of advice.
Popular Questions About Black Cabinets
What is the disadvantage of black kitchen cabinets?
There are cons to every pro. You must balance the two and determine whether the advantages outweigh the disadvantages. Actually, if you want your kitchen to look fantastic, you'll need to combine black kitchen cabinets with some bright fixtures. You need some brightness in the hardware and décor to balance out the dark colors because they never work well.
Are black cabinets okay for a small kitchen?
One of their biggest drawbacks is that black cabinets can make a kitchen feel smaller and darker. Small kitchens with little natural light may find this to be especially problematic. Homeowners may need to spend more money on lighting to address this problem or pick lighter countertops and flooring to make the space feel bigger and brighter.
Is black a good choice for kitchen cabinets?
Black cabinets provide a striking contrast and add a touch of luxury and elegance to any space. They provide a bland but neutral design option. Due to this, they function as a statement piece while also being incredibly versatile. According to your kitchen's size, lighting, and aesthetic preferences, black can be a good choice for your kitchen cabinets. 
---